All is well in Dr Kevin Chua's good hands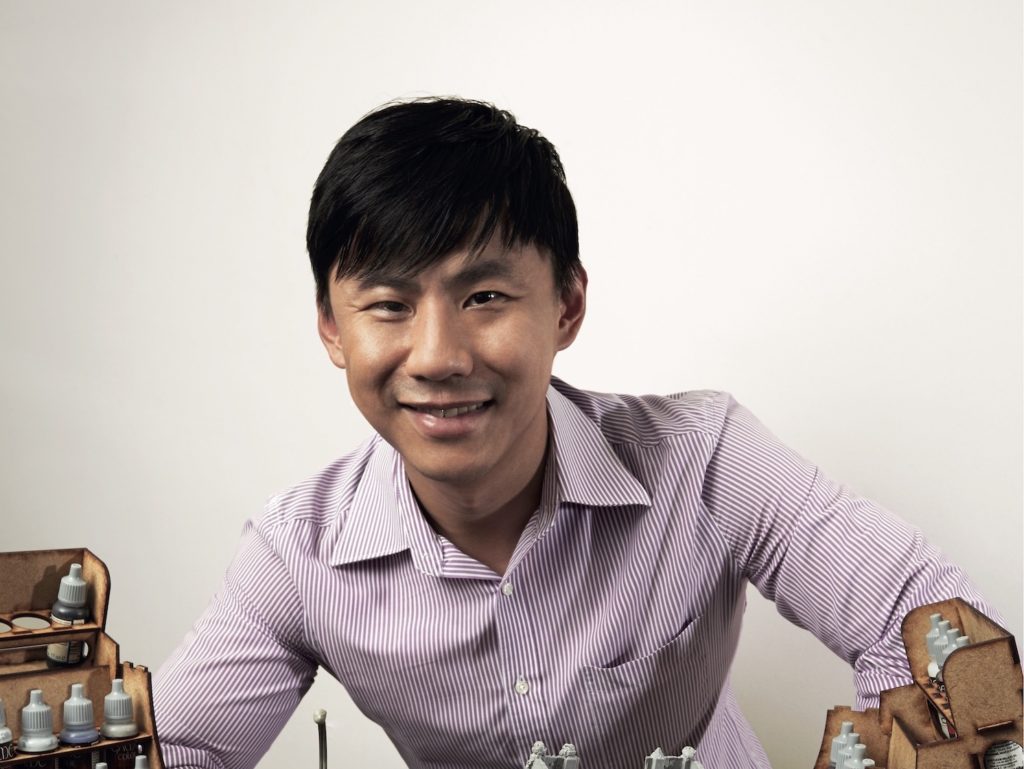 Dr Kevin Chua (Photo: Simon Sim)
Article By: ANNABEL TAN
Featured on https://www.prestigeonline.com/sg/people-events/people/all-is-well-in-dr-kevin-chuas-good-hands/
Two formidable-looking 3D printers stand in his office – the first clue that Dr Kevin Chua takes his machines very seriously. "I'm a gadgets guy," declares the doctor, who runs Dr Kevin Chua Medical & Aesthetics with his wife, Dr Iroshini Chua. One of the printers sits within a clear LED-lit box that Dr Chua constructed himself. With this printer, he has made a chess set as a gift to his father and several mini figurines that he then hand-paints – another hobby of his. Next on his list of 3D printing projects is a working tourbillon movement.
"I'm always interested in how machines work and figuring out the details," says the doctor, who has a special interest in aesthetic treatments and tattoo removal. One device he uses every day at his clinic in Bukit Merah is the PicoWay laser, which he uses for eyebrow embroidery removal, tattoos removal and treat skin irregularities such as scars and pigmentation as well as signs of ageing.
Eye for Details
Each laser treatment is tailored to the individual's needs, Dr Chua says. And this is where his eye for details, dexterity and experience come in; patience and adroitness are essential as the handheld device is passed over areas with fine lines or tattooed skin. "The machine can be difficult to wield," he explains. "It requires good hand-eye coordination and also the ability to see subtle changes during the treatment."
The same requisites that make Dr Chua a trusted doctor for laser treatments are honed through bringing intricate game figurines to life in his spare time. He has crafted thousands of them – most no taller than 5cm – which requires an artistry with incredibly fine brushes, going over each tiny part with 20 to 30 coats of acrylic paint.
Dr Chua's adeptness at safely lasering off tattoos has also gained him repute in this field, and he has treated nearly 1,300 individuals in his 11 years of medical practice. In the past year alone, he has done an average of 55 removals a month. He uses PicoWay and MedLite C6, two laser technologies for he has found particularly effective for tattoo removal.
Intricate Dexterity
Besides the technology, he says, a doctor requires a keen understanding of the "physics and physiology involved, as well as the risks to the patient in terms of scarring and the required aftercare".
"Every tattoo is different – in terms of size, depth, placement, and the type of ink and colours used," he explains, adding that several sessions are usually required to sufficiently fade a tattoo. "It takes time and the challenge lies in having to work backwards in a sense, figuring out how to tackle the various elements."
Giving Back to Society
Once a month, Dr Chua also volunteers at the Singapore Boys' Home, where he provides laser tattoo removals for residents of the rehabilitation centre, treating up to 17 boys a day. Some of these tattoos are gang- or drug-related, and can hinder the boys from reintegrating into society. "This is my way of giving back and helping these boys start afresh," he says.
More recently, Dr Chua has also been using the PicoWay laser to reduce the appearance of scars. He noticed that some of those who go to him for tattoo removal also have scars on their bodies, often from self-inflicted harm. "When I see that, I usually offer to treat them for free, as a gesture of goodwill," he shares. "They've already been through so much."
Art direction: Audrey Chan
Grooming: Benedict Choo using NARS