ELLE Beauty Treat List 2017: Doctors for Beauty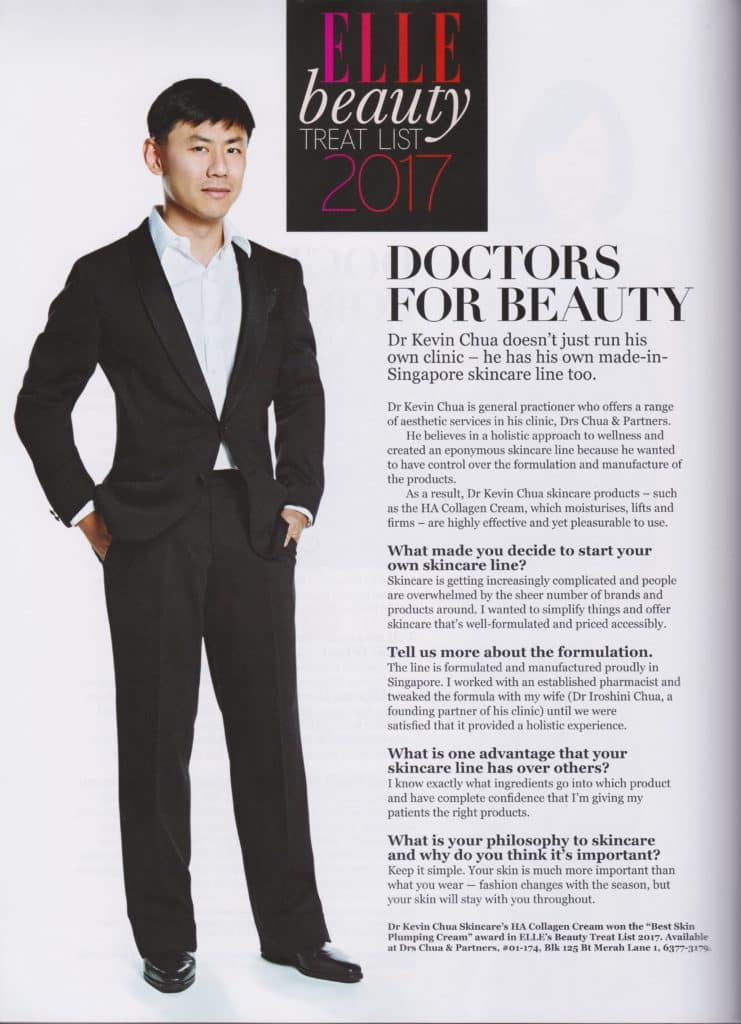 Dr Kevin Chua doesn't just run his own clinic – he has his own made-in-Singapore skincare line too.
Dr Kevin Chua is a general practitioner who offers a range of aesthetic services in his clinic, Drs Chua & Partners.
He believes in a holistic approach to wellness and created an eponymous skincare line because he wanted to have control over the formulation and manufacture of the products.
As a result, Dr Kevin Chua skincare products – such as the HA Collagen Cream, which moisturises, lifts and firms – are highly effective and yet pleasurable to use.
What made you decide to start your own skincare line?
Skincare is getting increasingly complicated and people are overwhelmed by the sheer number of brands and products around. I wanted to simplify things and offer skincare that's well-formulated and priced accessibly.
Tell us more about the formulation
The line is formulated and manufactured proudly in Singapore. I worked with an establishment pharmacist and tweaked the formula with my wife (Dr Iroshini Chua, a founding partner of his clinic) until we were satisfied that it provided a holistic experience.
What is one advantage that your skincare line has over others?
I know exactly what ingredients go into which product and have complete confidence that I'm giving my patients the right products.
What is your philosophy to skincare and why do you think it's important?
Keep it simple. Your skin is much more important than what you wear – fashion changes with the season, but your skin will stay with you throughout.
Dr Kevin Chua Skincare's HA Collagen Cream won the "Best Skin Plumping Cream" award in ELLE's Beauty Treat List 2017. Available here.