Celebrating love in Singapore with Kevin and Iroshini Chua!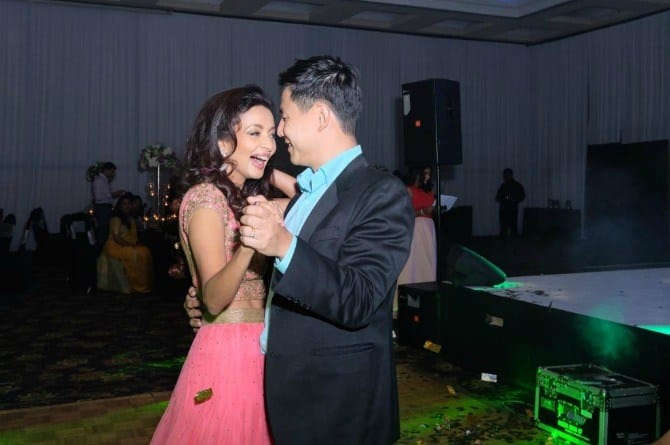 They could easily pass off as college sweethearts. She tugging at his shirt, their playful banter, and him looking ever-so-lovingly into her eyes. It takes you a moment before you realise that they are both respected and well known doctors in Singapore.
Yup, we are talking about none other than Dr. Kevin Chua, and Dr. Iroshini Chua, founders of Drs. Chua & Partners. theAsianparent met up with this very beautiful couple and got talking about their love story, 15 years of marriage, and life after kids.
When love happened
Kevin and Iroshini tell us they studied together in a medical school in Ireland. So, we start off by asking them about their love story…how and when did Singaporean Chinese Kevin, fall for the charms of Sri Lankan beauty Iroshini?
Kevin reminisces about that first crush like it happened yesterday, "U2 was performing in Ireland and tickets were sold out. I managed to give my tickets to a housemate who was a bigger fan, and she (Iroshini) went as well with another girl. I had to go fetch her back from the concert and she had worn her sloppiest outfit, and her hair was all curly and she opened the door and when I saw her , there were butterflies…"
He continues, "Later on, we were posted out to the outskirts of Dublin city to the various hospitals, for weeks. It would take us 3 hours to get there, and we carpooled, so we ended up talking a lot more, and that's when sparks really flew for me, (Iroshini chips in with a "Not for me!"). Well, it was one sided at first…"
Kevin also recalls that first date, "On our first date, after she got into the car, I locked the door (Iroshini adds, "He wouldn't start the car!"), I looked at her with a straight face and said, we are going into this with marriage in mind…she wanted to get out straightaway!"
And when did Iroshini realise that Kevin was her Mr. Right?
Iroshini says, "For me, we were best friends for a couple of years and it came to a point that we were graduating, and after he proposed to me it just clicked to me that he was the one person I just could not live without."
Was race ever an issue, we wonder? Iroshini reveals, "My family was concerned that I may not be used to the Chinese culture, my dad not even meeting Kevin, said, "If you want to jump into this big crate, I'll have to jump in with you."
Kevin adds, "My father was a little bit hesitant and certainly had his reservations in the beginning. Her side of the family kind of accepted me well before my side of the family accepted her. There was a lot of cultural misunderstanding and learning to do."
But eventually things settled down, and in Iroshini's words, "The family values are pretty much the same. Everything is family orientated, and meals orientated, which is the same as in Sri Lanka."
Marriage advice
We ask Kevin and Iroshini how they manage to stay so smitten with each other even after so many years, and in spite of their hectic schedules.
Iroshini tells us, "We make time, we travel a lot together…" Kevin interrupts, "Our kids don't like it when we do that. Iroshini agrees, "But, we tell them that it's so important to have time with each other, as well as with them. We do travel with them, but there's at least a couple of trips a year where there's just the two of us, so that we can just be…"
And doesn't working together and seeing your spouse all the time sort of kill the passion?
To which Iroshini exclaims, "I hate it if I'm not around him, really! I cannot stand it!
Kevin agrees with a rather sombre expression, "I don't sleep when she's not around. So, if she needs to go on a short trip overseas, I just cannot switch off…I'll be like sleeping at 3-4 am in the morning, and then wake up at 6 again, and then carry on like that until she came back." Iroshini completes the story, "And then the clinic assistants would be like, "Dr Chua was like a zombie when you weren't around, please don't go anywhere without him!""
Aww… Clearly, this adorable couple only have eyes for each other. Some marriage advice for us, then?
Kevin looks at Iroshini and answers with a rather straight face, "After so many years of marriage, I have come to the realisation that, regardless of what I have to say or think, she is always right. Happy wife, happy life."
Iroshini can't help giggling to that, "I think, for women, it's marry someone who is loving and kind."
"We were in Madagascar a couple of weeks ago, and our hotel had mosquitoes in the room even though there was a netting in the bed. The first morning I woke up, I had a few spots on my face, as I had tucked myself under the duvet to avoid the mosquitoes. But to my shock, Kevin was covered on both arms, with about 30 bites!
When I asked him what had happened, he said, "Honey I slept with my arms out, so that the mosquitoes wouldn't come for you." I was like, "Why do you love me so much?!""
That's just so sweet, perhaps it is this love and romance that adds a little extra zing to their relationship, and keeps the glow on their faces intact.
Parenting and kids
This super cute couple are proud parents to Aiyana, 11, and Jorim, 14. So, quite naturally, the conversation next veers to their parenting styles and discipline tactics. Iroshini is quick to respond, "Oh, We don't tolerate nonsense. As simple as that. It doesn't matter where we are, if the child says or does something wrong, we correct them, regardless of who's around us. We call them aside and speak to them."
Kevin adds, "I think it's so important that kids respect elders, respect other people, and not have airs. We don't want to bring up children who are unkind, not loving, selfish, and pompous.
He also stressed, "We have learnt over the years not be afraid of apologising to the kids, if we make mistakes. In fact, we have even done it on some occasions."
We couldn't help but wonder how the Chuas were able to manage work, parenting duties and social life so efficiently! They even help their kids out during exams! Mummy Iroshini informs us that she works part-time these days, "No matter what people say, quantity does count when it comes to kids, and not just quality time."
The family's favourite bonding activity? Iroshini replies, "We love our board games actually. The kids don't like it when I lose. They want to win, but they want me to be like third, so they are secretly plotting to get mummy out of trouble, and mummy always wants the kids to win…", she looks lovingly at Kevin, before bursting into peals of laughter. Kevin sighs, "You know, at some stage I would like to win. It's not fair, it's rigged."
And lastly, we ask them if they ever feel overwhelmed by the pressures of modern life, and Kevin says, "Well, at this point in life, not so much." Iroshini smiles sweetly and tells us, "When we do, we just pray together. Somehow things don't seem so bad then," she looks at Kevin and their eyes seem to agree.
It's amazing how cute and real Kevin and Iroshini are, as a couple. It is also heartwarming to see how much they adore each other…theAsianparent wishes this gorgeous family more love, joy and happiness in days to come.